Holi festival is one of the most popular and widely celebrated festivals in India. Also, known as the festival of colors, the Holi festival is celebrated on the Phalgun Purnima which usually falls in the month of March in India.
It is also said that Holi is the second most widely celebrated festival in India after Diwali and it attracts thousands of travelers from all over the world.
This incredible festival is a sign of victory of good over evil and there are so many mythological stories behind this colorful festival. So, there are huge opportunities for you to celebrate this festival and know about the unique Indian culture by taking Holi Tour Packages in India.
Today I have mentioned my experience of the different best places that you can choose for your Holi Tour Packages.
1. Mathura and Vrindavan
Mathura and Vrindavan are two extremely famous places to see the best celebration of the Holi festival in the whole country. Mathura is known as the birthplace of Lord Krishna and Vrindavan is the place where he spent his childhood.

The tradition of the Holi celebration in Mathura and Vrindavan is oriented from the Leela of Lord Krishna and his loved Radha. Holi is a week-long celebration in these regions and many renowned shows and musical performances can be seen the gorgeous temples such as Banke Bihari Temple in Vrindavan and Dwarkadheesh Temple in Mathura
2. Goa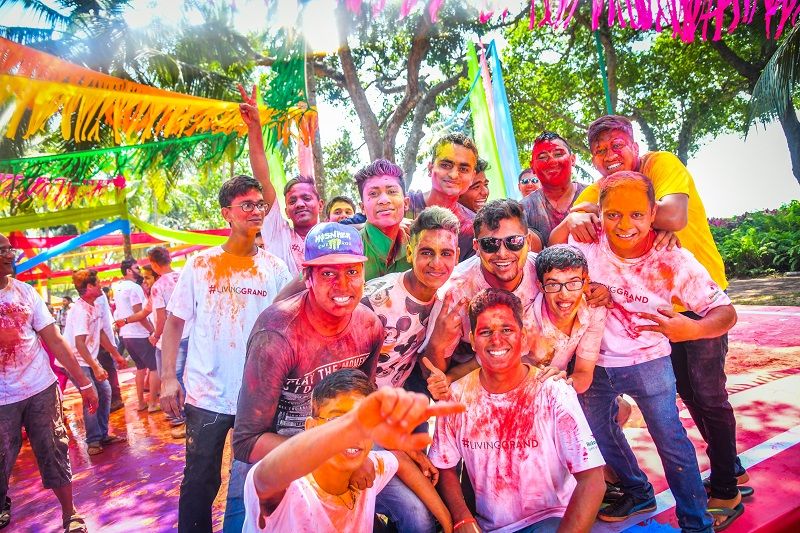 Goa is another best destination to choose for your Holi tour packages in India. Holi festival in Goa is also known as Shigmo which is celebrated with loads of fervor by the people of Goa.
Being the 5-day long festival, Holi is celebrated here with numerous forms of parades and cultural dramas. On the last day of this festival, people play with colored powders by throwing them on each other's faces.

Holi parties are the main attractions to see in Goa where people gather in large numbers, dance to loud music, play with colors, and greets everyone they meet.
3. Barsana
Barsana is famous for its unique type of Holi celebration which is called Lathmar Holi. Usually, at this festival, women of Barsana beat their husbands with Lathis (wood sticks) in friendly banter and men come with a Dhal (Shield) to prevent themselves from their wives.
This is another tradition of Holi that came from the Leela of Radha and Krishna. This two-day celebration of Holi is filled with numerous unique experiences that make Barsana one of the best places to choose for Holi tours in India. You can head to Radha Rani Temple if you want to enjoy every moment of this unique celebration.
4. Delhi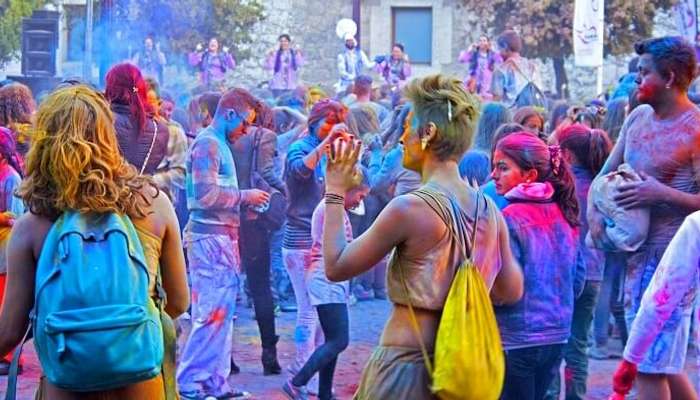 The capital city of India: Delhi isn't a long way behind on the list of best places to choose for Holi festival tours in India. The multi-ethnic city celebrates Holi in a unique sense of modernity.
On the eve of Holi, a huge bonfire is lit where individuals commend the triumph of good over evil. The next day people play with natural-colored powders. Stunning gatherings, music, DJs, Bhang, and so forth that flavor up the celebrations.
There are numerous Holi parties composed to add some memorable moments to the festivity. The Holi Moo Festival is one of the prominent occasions which is celebrated with natural colors, music, and franticness with in excess of 40 Indian and worldwide entertainers. Parties with non-harmful colors, drinks, delicious sweets, and sprinklers.
5. Jaipur and Udaipur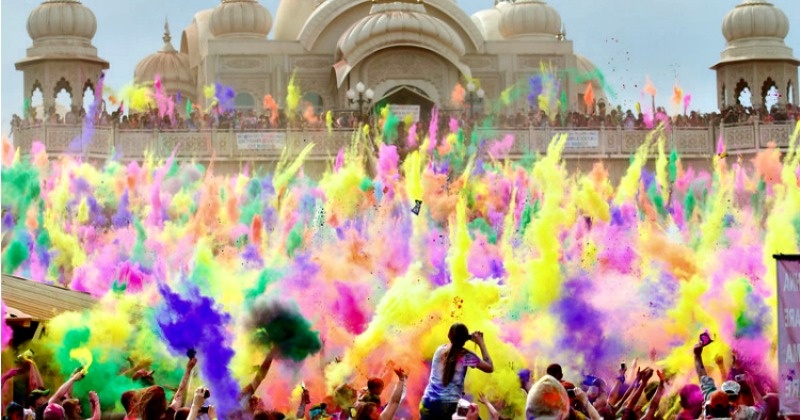 Holi festival also has a unique tradition of celebration in the Royal State of India: Rajasthan. This two-day festivity comes with Holika Dahan which is celebrated by the Royal families of the Mewar Dynasty at Udaipur City Palace. On the next morning, the celebration of Holi with colors is played throughout the streets of Udaipur and Jaipur.
Jaipur also held an animal parade on this day that includes decorated elephants, camels, horses, and traditional folk dances throughout the major streets of the city. So this is our list of 5 best places where you can enjoy the major celebration of this festival during your Holi Tours in India.
All these places have their own cultural ways and tradition to celebrate this festival and I am sure that, going to these places and taking part in these unique celebrations will make you fall in love with Indian culture. If you liked some of these places then share your experience in the comment section below.